Healthcare Scrub or Uniform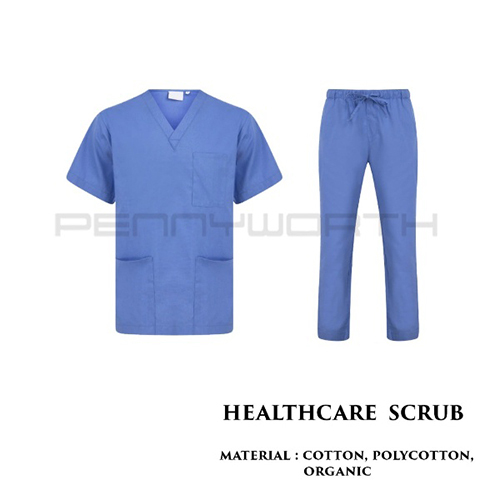 Healthcare Scrub or Uniform
Price And Quantity
Product Specifications
Short Sleeves

Summer Spring Rainy Winter
Product Description
This healthcare scrub or uniform is constructed of a poly-cotton cloth that is specially treated to be fade- and wrinkle-resistant. Designed to fit properly and feel soft and comfortable on the skin. Having the same appearance at the conclusion of a lengthy shift is made comfortable by this scrub. While maintaining comfort and functionality, the fashionable V-neck of this healthcare scrub or uniform provides you a polished appearance. It is made so that you can slip your phones, mints, pencils, notepads, and other items into pockets while you are always on the move.
Healthcare Scrub or Uniform typically refers to a type of clothing worn by healthcare professionals, such as doctors, nurses, and other medical staff, while they are working in a healthcare environment. Scrubs are designed to be comfortable, durable, and easy to clean. They play a significant role in maintaining a sterile and hygienic environment in medical settings, such as hospitals, clinics, and surgical centers. Here are some key points about healthcare scrubs:
1. Purpose: Healthcare scrubs are worn to maintain cleanliness and prevent the spread of germs and infections. They are particularly important in environments where close patient contact, medical procedures, and exposure to bodily fluids are common.
2. Design: Scrubs are typically made of lightweight and breathable materials to ensure comfort during long shifts. They usually consist of a shirt (top) and pants (bottom), both of which are designed to cover the body fully. The clothing design is often loose-fitting to allow for easy movement.
3. Color: Scrubs come in various colors, with different institutions or departments often using specific colors to differentiate roles. For example, surgeons might wear a different color than nurses or support staff.
4. Hygiene: Scrubs are meant to be laundered frequently to maintain a high level of cleanliness. This practice helps to reduce the risk of cross-contamination and the spread of infectious agents.
5. Accessories: Healthcare professionals often wear additional protective gear, such as gloves, masks, and goggles, depending on the tasks they are performing.
6. Changing and Storage: In many healthcare facilities, there are designated areas for changing into and storing scrubs. This ensures that healthcare workers do not bring contaminants from outside the healthcare environment into patient care areas.
7. Policies: Many healthcare institutions have specific dress code policies for scrubs. These policies may dictate colors, styles, and hygiene practices to maintain a consistent and professional appearance.
8. Infection Control: Proper use of scrubs is a crucial aspect of infection control. Healthcare workers are expected to follow guidelines to prevent the spread of infections both within the healthcare facility and in the larger community.