Mens Trouser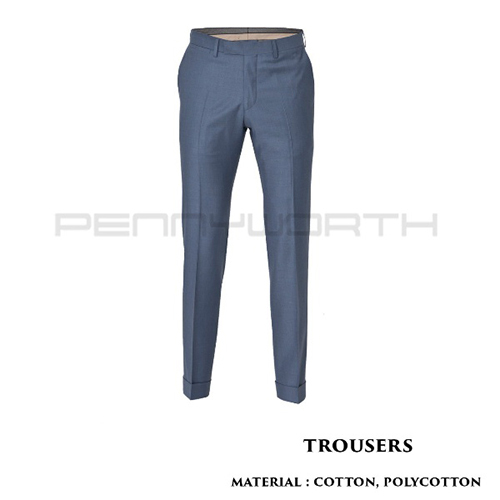 Mens Trouser
Price And Quantity
Piece/Pieces

11.50 USD ($)
Product Specifications
Summer Rainy Spring Winter
Product Description
This Mens Trouser offers a contemporary appearance. It is simple to utilize the zip and button fastening. To complement your professionalism, try wearing this pant. This Mens Trouser is composed of high-quality fabric in a lively color that will keep you looking good and feeling good all day long. In addition to holding wallets and handkerchiefs, the side pockets are large enough to comfortably fit your hands inside. It is painstakingly constructed from a quality cloth and feels soft on your skin.
Our company offer high quality Men's trousers. They come in various styles, cuts, and materials, suitable for different occasions and preferences. Here are some common types of men's trousers:
1. Dress Trousers: These are typically formal pants that are worn as part of a business or formal attire. They often have a tailored fit, a flat front, and are made from materials like wool or wool blends.
2. Chinos: Chinos are versatile trousers that are more casual than dress trousers but can still be dressed up or down. They are usually made from cotton twill and come in various colors.
3. Jeans: Jeans are a staple in casual wear. They come in different fits like slim, straight, skinny, and bootcut. Denim is the most common material used for jeans.
4. Corduroy Trousers: Corduroy trousers are made from a textured fabric called corduroy. They are warm and comfortable, making them suitable for colder weather.
5. Cargo Pants: These pants are characterized by their multiple pockets and a more relaxed fit. They are often associated with a rugged or military-inspired style.
6. Joggers: Joggers are a more recent addition to men's fashion. They are often made from comfortable and stretchy materials and have an elasticated waist and cuffs, providing a relaxed yet stylish look.
7. Suit Trousers: These are the matching pants that go with a suit jacket. They are usually made from the same fabric as the jacket to create a cohesive look.
8. Track Pants: Track pants are similar to joggers but are often made from lightweight and breathable materials. They are often used for athletic activities or as casual lounge wear.
9. Pleated Trousers: These trousers have pleats or folds in the fabric near the waist. They provide a bit more room around the hips and thighs and can offer a more formal appearance.
10. Linen Trousers: Linen trousers are perfect for hot weather due to the breathability of the material. They have a relaxed, laid-back vibe and are often worn in tropical or summer settings.
FAQ:
1. What are the different types of men's trouser fits?
Ans: There are several fits for men's trousers, including slim, regular/straight, relaxed, skinny, and bootcut. Each fit offers a different silhouette and style.
2. How do I choose the right size for men's trousers?
Ans: To choose the right size, measure your waist and inseam accurately. Refer to the brand's sizing chart for guidance, as sizes can vary between brands.
3. What's the difference between dress pants and chinos?
Ans: Dress pants are more formal, often worn for business or formal occasions, while chinos are more versatile and can be dressed up or down for both casual and semi-formal settings.
4. Can I wear jeans for formal occasions?
Ans: It's generally not recommended to wear jeans for very formal occasions. However, some dressier styles of jeans in dark washes might be acceptable for semi-formal events.
5. What's the best way to care for trousers?
Ans: Follow the care instructions on the garment's label. In general, avoid excessive washing to prolong their life. Dry clean dress trousers when necessary, and wash casual trousers according to fabric recommendations.
6. How should I style cargo pants?
Ans: Cargo pants have a casual and utilitarian style. They pair well with T-shirts, casual shirts, and sneakers for a laid-back look.
7. Are pleated trousers in style?
Ans: Pleated trousers have made a bit of a comeback in recent years, with updated fits and styles. They can offer a classic yet sophisticated look when worn appropriately.
8. Can I wear sneakers with formal trousers?
Ans: Sneakers can be paired with certain types of formal trousers, but it depends on the formality of the event. It's generally safer to opt for dress shoes in formal settings.
9. What are jogger pants?
Ans: Jogger pants are a more relaxed and sporty style of trousers. They have an elasticated waist and cuffs and are often made from comfortable materials like cotton or blends.
10. How do I prevent creases in dress trousers?
Ans: Hang dress trousers on proper hangers to avoid creasing. If creases do form, you can use a steamer or an iron on a low heat setting to remove them.
11. Can I wear linen trousers in colder weather?
Ans: Linen trousers are more suitable for warmer weather due to their breathable nature. In colder weather, you might want to opt for heavier fabrics.
12. What's the difference between flat-front and pleated trousers?
Ans: Flat-front trousers have a smooth, flat front without any pleats, providing a sleek look. Pleated trousers have folds or pleats near the waist, providing more room in the hip area.